Welcome to Smart it Vision
Smart it Vision services is design to improve your business smoothly and flexibly. Our team of web project managers, designers, developers and tester specialised in the specification, design, programming, testing and hosting of web sites and applications.
We manage everything from the opening software development to its full-size distribution and financing services that starts with understanding client's special and definite business processes and requirements.
Smart it Vision web and software solutions that improve our client's business processes.Whatever has the difficulty of the project and whatever type of solution you require for your business, contact our expert combined website services and enjoy its high benefits in your business.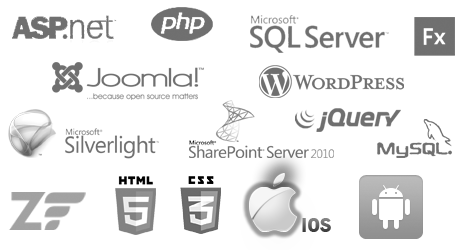 Our Services
WEB DESIGNING
As Website Design is first sense to attract customers. We design wide range of bright and economical Web design services that suit your business requirements. We Design your website as visitors attraction convert into sales and improves brand clarity and your business grow smoothly.

Whether the business is small or big the website should look simple, timeless and strong then we build user friendly designs that give you desired results for your online business. The smart it vision gives you various websites in which you run your business smoothly.

We follow to the W3C standards to ensure a high quality web design. We work on HTML5, CSS3, Jquery, Javascript, PSD technologies for web designing.
CMS DEVELOPMENT
CMS stands for content management system, is used for controlling as well as managing the website content, documents, graphics, images, videos as per your requirements. It also allow a system to update website content easily and simply for the business owners.
Our content management solutions are more better for the search engines. This is understanding about the process and efforts that is the where your content comes from. As a result CMS users get the information suddenly thus increase productivity.

The Smart it vision has excellence, affordable Open Source content management system Development services . It promote the products and services of customer's business.
WEB DEVELOPMENT
The Smart it Vision offers an entire range of web development services to a mixture of clients that come from industries. It include real estate, retail, e-commerce , e-learning as well as finance for marking their predictable presence in the WWW. The starting stage of our website development is the basic architecture requirement , Designing and development, coding, quality assessment, Testing , installation, support and maintenance.

We work on variable web development technologies like, Frameworks of the MVC , .NET 2.0, C#, VB.NET, PHP, MySQL , SQL Server, XML, Web Services, WCF, as well as Scripting languages such as Javascript, AJAX, JQuery .

To serve the specific needs of your business that reflects your company's identity we plan out a user-friendly structure with an easily possible back-end. So, Smart it vision is also improves our knowledge regarding development.
SEO/SEM
SEO is used for generate traffic to your website thus increase your revenue. It is also important to promote your website. For this purpose we offer on Page and Off Page Search Engine Optimization services for our customer's business websites. We start by finding relevant keywords that ideally suit your business. High traffic keywords lead you to the heights of top search engine rankings and help the visitors to find you soon. Proper implementation of a targeted content building is ultimate to achieve high rankings rapidly.